Our Story
"Whatever else anything is, it ought to begin by being personal."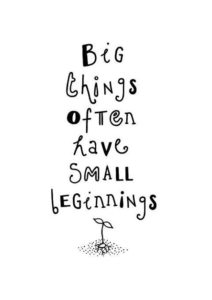 While that is a quote from the movie "You've Got Mail", it speaks perfectly to the very foundation of this company, how things began and how they will continue to be.
2008 An Idea Is Launched
After 20+ years of doing bookkeeping and payroll, a fork in the road sparked the notion of it being time to launch my own company.  My employer was liquidating his companies and retiring, and nudged me towards an idea I have had since being a little girl.  He quite frankly said …  "You can do this, it's what you know and love, and you're great at it".  He was right.  In 2008 my company was formed, a business started and my first client came on board. I took baby steps and gradually built my practice with referrals only, one client at a time. It was very personal to me. I took great pride in personally working with companies that started just like me and was entrusted in running their finances and bookkeeping like it was my own.  I have kept that theme throughout the years and continue to value the personal side of everything I do in business.
2013 Time for Growth
In 2013 my small little office was in need of a commercial upgrade.  I had kept my client list small for the first five years of business.  Another fork in the road gave me the choice of staying small or allowing growth. And, I chose growth.  I luckily came across the perfect space in downtown Solvang, CA.  I moved in and settled down into the beautiful upstairs space.  As my client list grew so did my need for more desks and room.  In early 2015 I expanded and combined with the office next to me and brought in some help.  Since then I have added two more assistants to round out the office perfectly.  While it is an office space by every definition, it's still warm, happy and in keeping with my theme of staying personal on all levels.
2018 10-Year Anniversary
2018 rang in our 10th year of business and we celebrated in style.  Our second office opened in Oakhurst, CA and our services expanded to the Madera County.  In keeping with things being personal, this spot holds a special place in my heart.  I grew up going to Bass Lake many times a year with my family and I am excited to come back, breath in the mountain air and expand my practice to the wonderful businesses in the area.
2019 Solvang Office Expansion
We moved into a bigger office space in March of 2019 and expanded our Solvang location.  We are so happy to have the amazing support and partnerships with the Santa Ynez Valley businesses!  Come visit us at our new space at 445 2nd Street Suites A&B (across from the beautiful Solvang Theaterfest).
2023 15-Year Anniversary
We've got some big things planned for the summer of 2023.  More information coming soon!
Why the name …Black Bird?
It was a breezy summer evening. The sun was setting and my mother and I were sitting on her shady back porch, sipping a lovely Pinot contemplating possible business names. I knew "bookkeeping" was to be in the name but nothing else was coming to me. Then, a huge flock (called a murder) of beautiful black crows flew into the tall creek trees above us.  There were easily 30-40 of them.  It hit us … Black Bird Bookkeeping.  I let it marinate for a bit and slept on it for a couple of weeks. Back at my home upon leaving for work one morning another round of 30 + beautiful black crows came to greet me. It was done. The name Black Bird Bookkeeping settled in like something that was meant to be.  And happily my company had a name.
Thank you!
Black Bird Bookkeeping